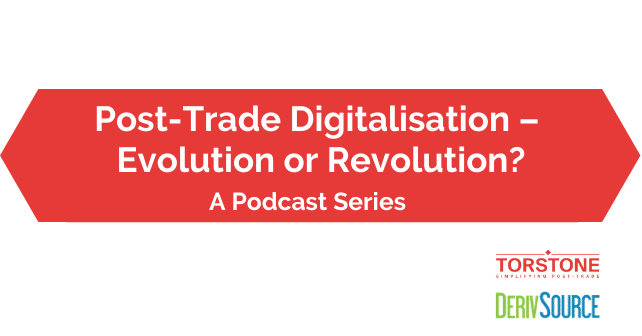 In this DerivSource podcast series with Torstone Technology, we explore both the evolution and revolution inherent in the digitalising of the post-trade space.
Drawing on the insights of industry experts and technologists, this podcast series evaluates the current digitalisation trends influencing the post-trade space now. Specifically, we discuss the emergence of 'newer' digitalisation strategies (tokenisation) and technologies (AI, DLT) that might impact how operations manager plan their digitalisation strategies now and in the future.
Listen in to also hear practical advice from a post-trade expert on key takeaways for implementing a successful digitalisation plan for the middle and back office.
Each episode will be broadcast over the coming weeks.
Podcast 1 – Post-Trade Digitalisation – the Existing and Emerging Landscape (Listen now)
Podcast 2 – Post-Trade Digitalisation – Understanding the Role of "Newer" Technologies! (Listen now)
Podcast 3 – Post-Trade Digitalisation – Practicalities of Transformation (Listen now)
All episodes can be found under the "Podcast tab" on the homepage. See individual episode pages for podcast show notes.