Commentary
Mark Beeston of TZero weighs in on the importance of improving processing of novations The challenges posed…
Stephen Bruel of TowerGroup talks scale and OTC derivatives Traditional custody is commoditized, and margins are falling….
The spirit of New Year has been the same throughout history; looking back at the old year…
Sarah-Jane Dennis of Investit tells us how… "In our experience over half of investment management firms using…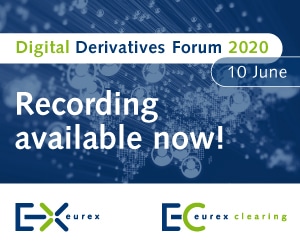 Podcast
Career Coaching – The Value to Professionals and their Companies (Oldie but Goodie!)
Last summer we posted the following podcast which we are re-broadcasting for our audience. Whether it is...
Upcoming Events
There are no upcoming events at this time.
Latest Videos on YouTube
Collateral Management: What Are The Priorities for 2019?


The Future Of Financial Markets: Addressing Unknowns & New Opportunities