Author Description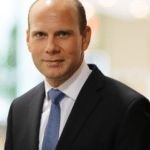 Valentino Wotton Valentino (Val) Wotton is Managing Director of DTCC Deriv/SERV, with responsibility for product development and strategy. In this role, Wotton leads efforts to identify opportunities to enhance all of DTCC's derivatives products and services to meet the evolving operational and regulatory compliance needs of its global client base and helping the firm to innovate around the core principles of automation, standardization and utilization. Prior to joining DTCC, Val served as Global Head of Markets Post Trade Services and Europe Markets Operations at Barclays. There, he was responsible for the implementation of a strategic global operational model to provide improved service capabilities to clients and internal businesses as well as the design and delivery of an enhanced strategic architecture to achieve automation, process improvement and risk management objectives. Previously, Val held several senior roles at Citigroup. During his career, Wotton has served on a number of Boards and committees, including DTCC's Deriv/SERV Board, LCH OTC Deriv Net, and the International Swaps & Derivatives Organization's (ISDA) Market Infrastructure & Technology Committee. Val holds a Bachelor of Laws degree from Nottingham Trent University.
Author Posts
In a Q&A with DerivSource, Valentino Wotton, Managing Director, DTCC's Deriv/SERV, answers our questions about the trade…
Sign up for
our newsletter
Join our mailing list to receive the monthly e-newsletter and alerts about future events and webinars.
Upcoming Events
October 19 @ 8:00 am

-

5:00 pm