Author Description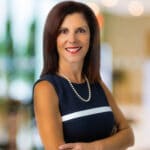 Marie Chinnici-Everitt Marie Chinnici-Everitt, Managing Director at DTCC. Regional Manager, DTCC Tampa. Marie Chinnici-Everitt is Managing Director and Chief Marketing Officer for DTCC. In addition, she serves as head of DTCC's Tampa office of 1,400 staff, overseeing day-to-day operations of the site across all businesses and support functions for the Florida market. Marie is a member of DTCC's Investment & Operations Committee and a Board member for the DTCC Political Action Committee. She served as Vice Chair of DTCC's Diversity & Inclusion Council (2013 to 2016).
Author Posts
Capital markets operations and operations technology proved their resiliency during the recent COVID-19 pandemic when the market…
Podcast
LIBOR Transition: What are the Complexities and Opportunities in a System Execution Plan?
In this podcast series, we've discussed the high-level market aspects of the transition away from LIBOR, as...
Upcoming Events
There are no upcoming events at this time.
Latest Videos on YouTube
Collateral Management: What Are The Priorities for 2019?


The Future Of Financial Markets: Addressing Unknowns & New Opportunities