Author Description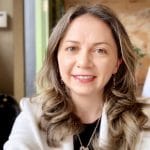 Ligia Catherine Arias-Barrera Ligia Catherine Arias-Barrera, Ph.D- University of Warwick, Partner at Nalanda Analytica S.A.S (Regulatory Consulting Firm),Associate Professor at Externado de Colombia University. Catherine specialises in financial derivatives and regulatory reforms in the UK, the US, and Colombia. She Partner at Nalanda Analytica S.A.S a consultancy firm specialized in regulatory strategies and regulatory impact assessment. She is consultant on central clearing services and financial derivatives, including exchange and OTC markets, and provided institutional consulting services on post-Brexit regulatory reforms - (Bank of England). She has advised process of legal structure, conflicts of laws, CCPs-Clearing Members agreements in emerging markets, such as Nigeria. Most recently, she's been working on climate change risk assessment for financial institutions, legal structure of venture capital investments, and FinTech for financial inclusion. Also, she is a registered independent expert at the IMF. As an academic, she's associate professor of Financial Regulation at Externado de Colombia University and was an assistant lecturer in the LLM in Corporate Governance and Financial Regulation and the module on Financial Services in the Law School at the University of Warwick. Author of the book: "Regulation and Supervision of the OTC Derivatives Market" published by Routledge and named one of the best Banking Law books of all time by BookAuthority. Currently, she is researching and publishing several articles and chapters on the impact of FinTech in financial regulation. The upcoming publication is the chapter entitled Is Risk-Based Regulation the Most Efficient Strategy to Rule the Unknown Risks Brought by FinTech? in The AI Book: The Artificial Intelligence Hanbook for Investors, Entrepreneurs and FinTech Visionaries published by Wiley (March, 2020). LLB and Postgraduate Degree (Externado de Colombia University), LLM in Commercial and Corporate Law (Queen Mary, University of London) and Ph.D. in Law (U. of Warwick).
Author Posts
Ligia Catherine Arias-Barrera,Ph.D University of Warwick and Partner at Nalanda Analytica (Regulatory Consulting Firm) is author of the book "Regulation…
Sign up for
our newsletter
Join our mailing list to receive the monthly e-newsletter and alerts about future events and webinars.
Upcoming Events
October 19 @ 8:00 am

-

5:00 pm