Author Description
Jez Bezant
Jez Bezant is an independent consultant specialising in OTC derivatives and related trading technology and processing.
Previous roles include:
Partner & Chief Marketing Officer at RFQ-hub
Head of Retail Structured Products at Aviva Investors
Head of Business Management at Morley Fund Management
Specialties
Derivatives: the use of structured products and complex deriative-based strategies in retail and institutional Investment Management.
Strategy: Developing and implementing commercial strategy in Investment Management businesses.
Product design and business development
Author Posts
The latest draft of MiFID 2 which has been in circulation since Friday 2nd September has caused…
Jez Bezant explains the importance of collateral management A couple of years ago I was explaining to…
The spirit of New Year has been the same throughout history; looking back at the old year…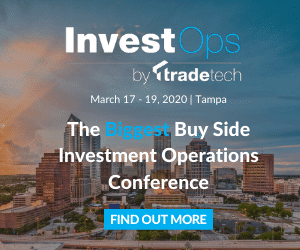 Podcast
Environmental, Social and Governance (ESG): Spotlight on Data
Part four of our four-part podcast series on ESG or environmental, social and governance (ESG) investing. In...
Upcoming Events
March 17 @ 8:00 am - March 19 @ 5:00 pm
Latest Videos on YouTube
Collateral Management: What Are The Priorities for 2019?


The Future Of Financial Markets: Addressing Unknowns & New Opportunities