Author Description
David Broadway
David Broadway is a policy adviser at the Investment Management Association in London, which represents the UK fund and investment management industry, focusing primarily on regulation and practice impacting the post-trade operations of investment managers.
For over a year now he has been engaged with IMA members on the specific subject of EMIR trade reporting through a regular discussion forum devoted to exchanging views and information on the challenges they have faced in meeting the reporting obligation.
Author Posts
The industry welcomes input from The European Securities and Markets Authority (ESMA) but there are areas of…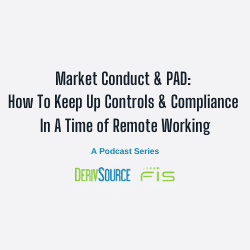 Podcast
Market Conduct & PAD: Regulatory Guidance for Remote Working
This is the second episode of our podcast series on "Market Conduct, Personal Account Dealing: How to...
Upcoming Events
There are no upcoming events at this time.
Latest Videos on YouTube
Collateral Management: What Are The Priorities for 2019?


The Future Of Financial Markets: Addressing Unknowns & New Opportunities