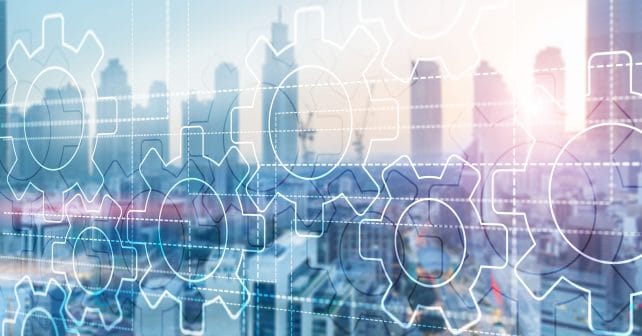 In June of 2021, State Street Digital was launched. Drawing upon the State Street's existing digital capabilities, this new division mission of being at the forefront of the evolving digital economy by providing digital infrastructure and operating models to this burgeoning space. In a Q&A with Nadine Chakar, EVP and head of State Street Digital, we explore the top trends that will likely shape the evolution of digital market infrastructure in 2022. Read on for insight into how the milestones of 2021 will influence further progress in the coming year as the industry develops the infrastructure, technology and expertise to support digital assets and the wider digital economy.
Q. Looking back, what were the most significant milestones for this industry generally?
A. 2021 was a pivotal year for the digital economy, as we saw an unprecedented rise in the popularity and adoption of cryptocurrencies and digital technologies.
The collaboration between fintech and financial institutions is starting to bear fruit and introduce new products to the market. One such example is our own partnership with blockchain company Symbiont to process FX forward contracts via blockchain. This state-of-the art initiative is geared to digitize the margining process around collateralized foreign exchange forward contracts that will reduce our customers operational challenges through process automation and state of the art technologies.
Q. How did these milestones impact the digital infrastructure space and State Street Digital?
A. As blockchain and the crypto sphere have started to become adopted and implemented by the largest financial institutions in the world, it is no surprise that regulatory bodies are stepping in to ensure the proper rules are set in place and that investors are protected. At State Street Digital, we continue to work with our regulators to introduce products and services that are based on our risk excellence framework. Our priority as a global financial insitution is to be both agile and responsible on behalf of clients.
Q. What was the biggest milestone for the newly launched State Street Digital (the DSCD mandate or something else?)
A. Building a new organization and infrastructure within State Street that is totally dedicated to the digital economy is our headline milestone. Since the launch, we have won mandates for the global servicing of crypto-related ETF funds and forged strategic partnerships with innovative fintechs. These include our work with Securrency, a company helping businesses ensure they are meeting proper regulations and are crypto-compliant, as well as our work with Lukka to expand our own digital asset fund administration capabilities on behalf of our alternative clients.
Q. Are there any lessons learned in the first 6 months since operation began?
A. There have been many lessons. The first is around standing up a dedicated division focused on helping State Street clients transtion and thrive in the new digital economy. We understand that innovation is about culture as much as technology. We are learning that our clients, our partners – both internal and external – our vendors, and regulators are all in different phases of their digital journeys. It takes time for innovative technologies to change how we work and how we run our buisness, and we have learned that we need patience and commitment to transform the industry. We are in it for the long term.
Q.2022 in Preview – What industry challenges do you believe will shape the coming year for the digital assets space?
A. Regulation will be the dominant story for some time moving forward into 2022. We've seen regulatory bodies go back and forth on their approach to crypto or push deadlines further away as they decide on legislation, seen recently in the rejection of the VanEck Bitcoin ETF. Headed into the new year, these debates will continue to heat up. Aside from regulation, the industry will have to address the need for products and services that provide intelligence and research for portfolio managers to make smart investment decisions about crypto. Going one step further, the tokenization of illiquid assets will get more players into the game and further drive the need for digital custody.
Q. How will State Street Digital respond to these challenges?
A. We have already begun. This year, we will continue to draw on our history of innovtion to build the future. We will continue to strenghten our relationships with our fintech partners and clients to roll out new digital products throughout 2022, and to meet our clients' needs, wherever they are in their digital journeys.
Q. As the business is under a year old, what are your goals for growing and expanding the business in 2022? What are the milestones you expect to hit?
A. State Street Digital is an investment in tomorrow. We have already successfully built the tools and infrastructure that will enable us to take advantage of meaningful opportunities in digital innovation on behalf of clients. We are already enhancing our proprietary technology and products, like our GlobalLink platform, which is evolving to become a multi-asset platform that can support crypto along with traditional assets. And we will continue to collaborate with innovative partners to create scalable global solutions for clients.
Q. How will you look to further differentiate your offering from other existing or new entrants in this space?
A. The key to our strategy is that it is less about custody and more about providing services we always have for traditional assets in way that is completely transparent to our clients. Our strategy is to build on the strong foundation we have created and evolve our traditional offerings to bridge the digital divide.
Q. What do you think is the biggest opportunity for the digital infrastructure space in the coming year?
A. The rise of tokenization of Illiquid assets will drive the need for digital custody and servicing of those assets, and this area will be a significant catalyst for investment in the new year. Financial institutions that are already quality issuers of digital assets will be able to convert traditional assets to tokens on a "digital exchange," allowing for mobility between cryptocurrencies and traditional offerings, like an ETF.