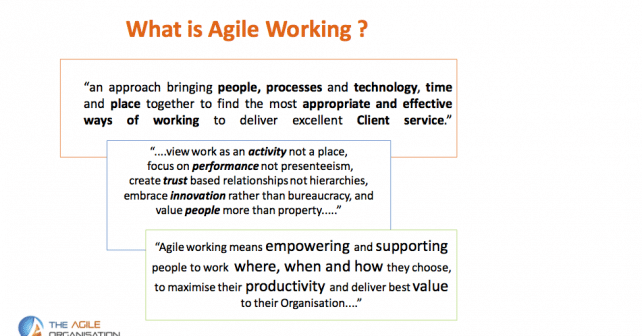 Paul Allsopp, founder of The Agile Organisation, shares advice for how firms and senior executives can adopt agile working practices to boost performance, improve employee wellbeing and support strategic ambitions beyond the COVID-19 pandemic.

Q. In your role as founder of  "The Agile Organisation", how do you help firms become more agile? What do your clients hope to achieve in seeking your consultation? What are their motivations and how do they see agile working support long term strategy?
A. I founded The Agile Organisation over 10 years ago having previously managed both Workstyle 2000 and the UK Agile Working Programmes for BT plc. In the last 2 decades agile working has been increasingly in focus as a "must do" business concept . We have helped a number of organisations as diverse as LSEG and BNP Paribas to Gartner, The Open University, North Yorkshire Police and Crohns & Colitis UK.
While every organisation aspires to be agile, it is not always easy to define and because every organisation is unique what it means to be agile requires an individual journey…
MOTIVATION & FUTURE
The main motivations for organisations seeking to implement agile working is foremost becoming both more efficient and more effective – improving performance in terms of costs, outputs and value for staff and customer outcomes. This may be cost savings from new ways of working such as reduced space or getting better return from investments in new workplaces and technology; better performance through more empowered employees; retention of staff and attraction of wider talent pool through agile culture; as well as the resilience that work@home has brought to keeping organisations operating during the current crisis.
Agile working has been around for over 3 decades and although some organisation have been slow to move from traditional ways of working there is now clear demand from staff and the senior team alike to take advantage of the capability and opportunities new technology has brought.
Many believe they have 'done' Agile Working. They have increased the ratio of people to desks and achieved a saving in accommodation costs. They have provided flexible working arrangements across the organisation and have enabled their people to work at home for part of their working week. Staff surveys show employees are pleased with the opportunities and benefits this provides them. But organisations cannot afford to become comfortable or complacent, there are greater opportunities to grasp.
Often the review of agile working is prompted by an event such as a lease end, relocation, growth, investment in new technology and digital transformation programmes, workplace refurbishment, or mergers and down turn in business requiring rationalisation, and sometimes from staff or Departmental Heads and HR with recruitment and retention issues.
Staff (and this is cross generation and sex) are increasingly looking for more flexible working arrangements in terms of work/life balance as well as finding more satisfying and empowered ways of working. Working in 20th century environments with 19th century traditions is no longer attractive, and no longer sustainable if you want to survive and thrive.
Similarly senior teams see the potential benefits of agile working in terms of cost reductions, productivity and new and improved client service and the need to offer competitive conditions and modern culture to attract the best talent to keep the organisation in the front line of business. But it's not just about working in a different time and place to make efficiency savings or attracting talent.
Agile and technology provide opportunities for new innovative ways of delivering service – looking to different sourcing methods, using AI and new software etc. So agile working is more about mindset change. Change is happening all around us all the time and it's important to be responsive to the challenges and opportunities this brings. This requires new mindsets, behaviours and cultures. Status quo is no longer an option. Getting an organisation prepared and ready for change is at the root of agile working, preparing organisations for the future business environment – the world of post Pandemic and Brexit.
Stirred by Brexit and pushed by Coronavirus the demand to be agile, and practice agile working is now clearly very much on the agenda. Slow starters and those comfortable with what they had achieved in a project 2 – 3 years ago now realise agile working has moved on and they cannot afford to get left behind. One of our clients admitted their real reason for "going agile" was because their competitors were doing it!
WHAT ARE CLIENTS LOOKING FOR
"Clients are individual with their own unique situation so there are differences. However, most are looking for support from an independent consultant practitioner who has done this before and done it as part of a corporate organisation."
Clients are individual with their own unique situation so there are differences. However, most are looking for support from an independent consultant practitioner who has done this before and done it as part of a corporate organisation.
Some are looking for a complete package that would cover the service outlined (in our approach below), others are seeking pick and mix elements of the services with options to self supply certain elements and requirements for consultant to knowledge.
As example we have developed the business case and strategy for a large bank client, for other clients we have carried out change management and training.
High on the benefits agenda of most organisations rationale for agile working are cost/ space savings, but getting better return and utilisation of investments in new mobile and digital technology are also important. However, people are a Company's most important asset and agile working has a key part to play in creating the environment, culture and conditions to retain, attract and reach the best talent. As evidenced by the current pandemic, the resilience created by remote working capability has also become the current key element in keeping the organisation running in times of crisis – be it health, strikes, weather, power or transport inspired disruption.
HOW DO WE HELP
Clients who seek our help are looking for someone who has done this before and done as part of a corporate organisation. We use our blend of insight, extensive experience and workplace practice gained over many years to consider with the client, the gaps, risks and opportunities that the strategy and implementation plan will need to address and the wide ranging support that we can provide in complementing and enhancing the in-house and any partner team resources.
Our approach focuses on understanding the client, their people, workstyles, activity and culture. We then evidence the "as-is" situation and compare this with the established future vision and strategy to identify the gaps and opportunities to develop and plan the agile solutions. We start from the idea that "work is an activity not a place" and that the basis of both business and workplace strategy is people, the key areas we focus on are: engagement with the workforce, enabling the workforce, and workplace behavioural and culture change.
The main elements of our approach are directed into:
engagement and envisioning to gain understanding and create evidence for an assessment of capability and readiness;

communication and definition to gain commitment and clarity and consistency;
development of workstyle profiles and a palate of in office and remote worksettings, experiences and protocols to provide appropriate activity and people support;
developing the strategy, business case and implementation plan to provide direction, authority, governance and action for delivering agile working;
creating the framework for agile working including guidance and policies;
promoting and actively developing change in culture and learning of new behaviour and ways of working, thinking and managing to achieve and sustain the agile working outcomes the client is seeking; and –programme management.
From our experience it is important for us to initially dialogue with Clients to establish what they are looking for, their vision for agile and where they are on the agile journey. Not every organisation is clear on the why so we always look to envision and outline model for agile working (See Graphic below Setting the Scene).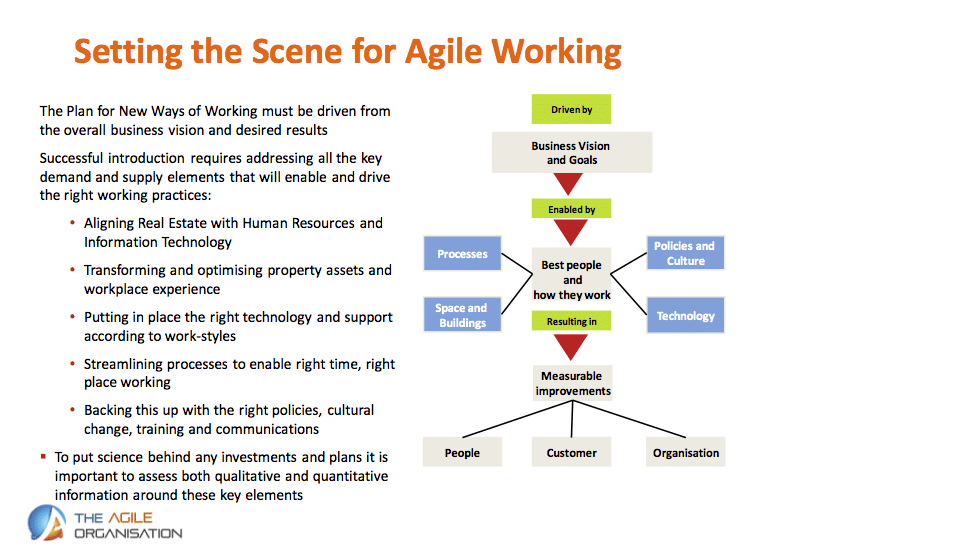 The first question Clients need to ask themselves is "why". Why agile, and what do you want it to achieve for your organisation. Establishing clarity of purpose is the starting point – how does agile working fit within current activity and vision for future direction as well as the anticipated specific value it will provide. The second and related question is what is agile working – not the standard definitions but what it means for their organisation. The vision and the definition are closely aligned. To get everyone on the same page the term must be translated into clear and simple words that demonstrate consistent and clear meaning for the organisation.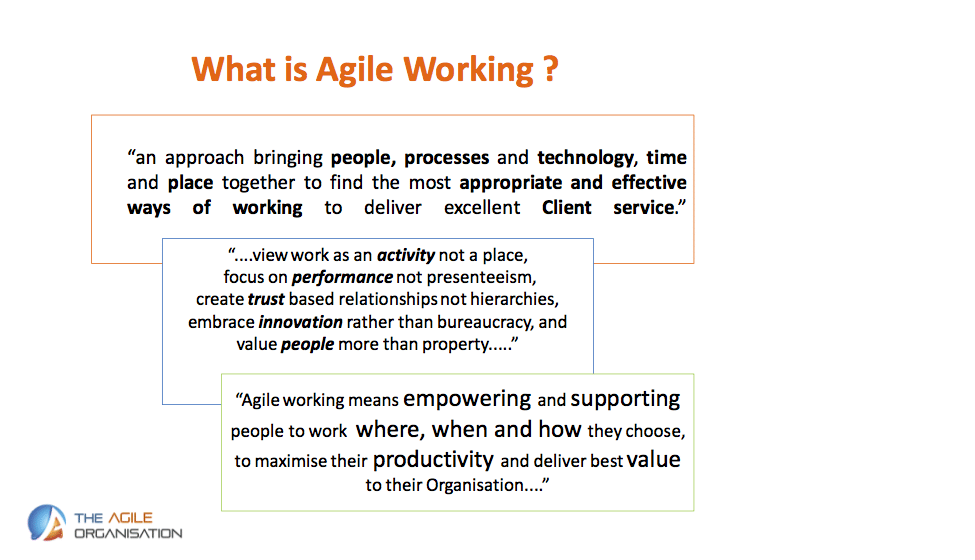 Some of The Agile Organisation definitions in the graphic above have been used by a number of clients.
Q. How do you think the current pandemic is changing the view of agile working? Is this changing the stigma behind remote working, for instance?
A. The Pandemic has clearly changed the dynamics of agile working. Up to now much focus has been placed on the physical workplace with hot desking and alternative collaborative work settings and spaces. However, these are all much focused on proximity and sharing which under the new regime are seen as safety hazards with a need for sanitisation, strict distancing and management procedures to make them compliant. These safety fears will be further heightened by issues with public transport commuting particularly in large cities.
As such these requirements will mean a re-assessment of the agile office workplace to assess risks and confirm the "safe people capacity" for the space and suitability for customer interfaces. So we anticipate in-office agility will be more limited in terms of capacity and variety of available worksettings – certainly availability of collaborative and shared worksettings will be highly managed at least until the pandemic crisis dissipates.
At the same time the mass move to homeworking will have fulfilled the aspirations of many employees and proved to most businesses that operations can successfully carry on remotely even if not perfectly. As such this has inevitably broken down much of the cultural and risk averse barriers that previously existed in restricting home working. We now have proof that homeworking can work at scale and for a continuous period.
"With capacity issues in the office, added to the inevitable financial savings the post pandemic recession will require companies to make, and greater staff experience and demand in home working it is clear the pendulum of agile working at the moment is moving more towards the virtual and remote rather than the physical and presence in the office."
With capacity issues in the office, added to the inevitable financial savings the post pandemic recession will require companies to make, and greater staff experience and demand in home working it is clear the pendulum of agile working at the moment is moving more towards the virtual and remote rather than the physical and presence in the office.
However, we should not forget that the crisis experience will also have confirmed some employees worries about isolation, wellbeing and adequacy of home working support. With such a large "experiment" there will be a variety of feedback – positive and negative – and this will need to be assessed on an ongoing basis. Certainly those organisations that were already well established with mature agile working practice have fared much better than those with limited and last minute preparation.
Cutting some corners to make work@home happen and keep business services operating may be acceptable for a short period in response to the Coronavirus lockdown. But we are helping clients to understand it is not acceptable to continue without making the business case for sustaining new levels of work@home and creating a move to compliant homeworking that is properly supported and managed enabling people to perform safely, securely and effectively. Nevertheless, we do not anticipate that we will going back to the way things were.

Q. For financial firms, how can adopting agile working practices support strategic ambitions but also help them manage challenges in the current circumstances?
A. Most Companies are looking to be efficient and cost competitive, attract and retain the best talent, enable staff to perform to their potential (and beyond), be capable of reacting rapidly to business and market challenges & opportunities, provide great service to customers, at the same time be resilient, profitable and actively support ways to improve the planet and communities.
Enabling staff to work in agile ways (within and remote from the office base) with the support of tried and tested mobile and digital technology, working with the required toolkit and in compliant environments backed by supportive management, culture, training, policies and protocols will give organisations the ability for many functions to successfully carry on business regardless of location and time.
However, as some have found out for regular and ongoing remote working more is needed than just giving staff laptops and sending them home to work as normal. We have helped a number of organisations to assess what is not working or what is missing and plan, develop and provide the missing elements of the framework for successful agile working.
Q. Looking at agile working in more detail, what are the essential best practices executives and their teams should be following?
A.For organisations that already operate an agile working culture much of the best practice provisioning, policies, protocols, guidance training and management support are already installed and practiced, albeit these may be limited to employees and managers that have agile or mobile workstyles.
Clearly the ideal starting point is providing the remote "toolkit" to give capability. This should include devices, digital software, technology and speedy and secure connectivity to company systems. This is the founding requirement for people to operate agile and remotely – whether this is corporately supplied or BYO. Many organisations were supplying individuals with laptops and even taking office PCs home before lockdown or asking staff to use their personal devices and broadband realising that without this capability people will struggle to perform the basic requirements of work activity (although the adequacy of such last minute initiatives is questionable). In some instances staff may require more than a laptop screen – some may need 2 screens, specific bandwidth and secure access and some special software to be effective. However, it should not stop at toolkit provision – capability needs to translate into ability so virtual training and technical back-up and fault support should also be available. In mature agile working organisations agile workers already had the remote enabled capability and ability.
However, beyond this capability the keys to successful agile working are leadership, engagement and communication but most of all empowering people and trusting them to find the best ways of working as individuals and teams.
A key part of the Managers role will be to manage by outcomes setting goals and being clear in defining expectations and boundaries of empowerment – not micro managing the detail. Some will find it more difficult to visualise and operate teams that are no longer present – although in practice people can be virtually present.
Communication is King in remote working – not over communicating to disturb work activity but "keeping in touch" is important to keep people and work on track. As such setting communication routines such as regular team video or audio calls to check-in and update, encourage the team to share experiences, how and where to share documents or chats, offering 1:1 calls to ensure equality of participation and keeping an eye on personal wellness/ stress particularly in crisis situations.
Remote meeting protocol and etiquette is useful to avoid time wasting – sorting out the technical stuff and log-in, clear start and finish times, agenda and who attends. If possible try to use video for virtual meetings as this produces significantly more engagement and inclusiveness, it is also more "human" creating team facetime that people may miss.
It is often useful to allocate team champions to look after and monitor effectiveness of remote protocols and practices and recommend improvements. For example this may consider simplifying approval processes through electronic means, setting up and dealing with repositories for file sharing or managing engagement with other teams, even organising online socialising. It is often worth suggesting staff establish their own daily routine – routines can be a comfort a steadying influence in a challenging environment.
It is key for Managers to be aware of and understand the individual and team evolving needs. It may be useful to have occasional team "pulse surveys" to check how people are coping with different and changed aspects of working – such the tools they use, practices and protocols employed and personal elements of being remote such as isolation, stress or pressures of caring or home schooling.
It is important for managers to know their people and in remote situations know how and when to give advice. The role often moves towards being a coach and mentor allowing the individual the space and autonomy to find the best way of delivering their outcomes. It is useful for Managers to consider the personality which will give clues to how what to focus on in getting the best in managing from agile workers….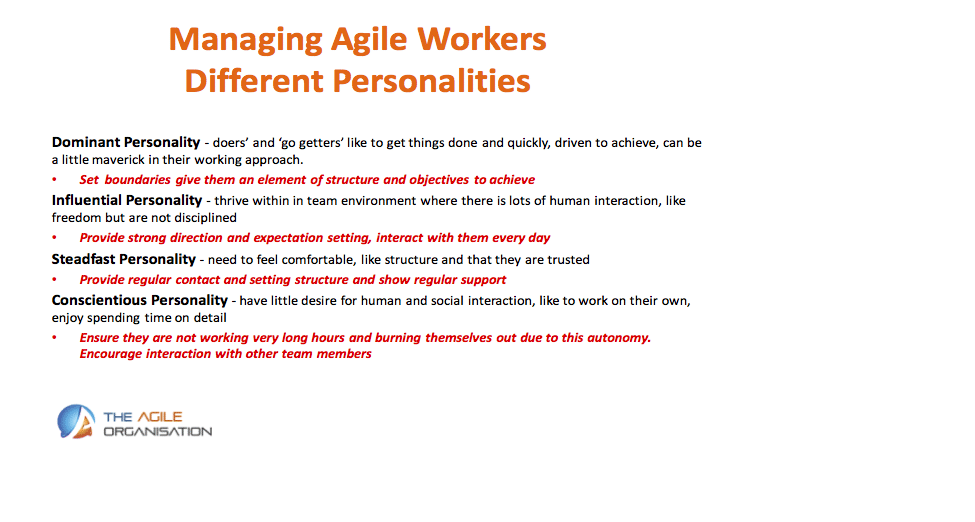 Q. What are the common challenges executives face when adopting or implementing agile working practices?
A.Beyond the challenges that new technology brings and the need for a realistic business case, most struggle with the people and culture, mindset change and the time this can take. Leaders need to be realistic in what can be achieved and be clear about how it fits into the vision, state the key principles, the expectations and the implementation plan and approach. Communicating this and seeking feedback and engagement in how the change proceeds is key to success.
Change is a key part of developing and implementing agile working but creating a robust framework based on wide engagement and collected evidence (internally and externally) and pilots to test in use, then supported by policies, guidance and organisation wide learning initiatives will make the passage much easier and more fruitful.
Executives often approach agile working as a one off project focused on immediate benefits, but the challenge is to view it as a culture and mindset initiative. As such it is long term and continuing, part of the business strategy something that should touch and impact the whole organisation in different ways but which needs constant refresh and renew – it is about readiness for change.
Often it is middle managers that can be most resistant to change as they see more autonomy and less presence as more difficult to manage than the normal "everyone in the office scenario". They can feel the push down from the Senior Team to achieve and implement new agile ways of working rapidly while at the same time have pressures to deliver business as usual objectives and staff who want to know the detail and how it will impact them.
Q. Is there a key way firms can make smaller changes now to address current challenges but also support greater and more strategic planning for agility in the longer term?
A. For many organisations agile working is an evolutionary process, strategically planning the steps in line with differing investment requirements and changes to existing systems, piloting, training and familiarisation for new practices, but still ensuring business as usual is not be fettered with change overload.
The key is to plan and prepare well in advance follow the process we have outlined in our service approach. Consider the issues and opportunities on an ongoing basis and adapt or renew your strategy and implementation in evolutionary steps. Agility is a mindset, and a business concept that is about reaction to continuing change, not a one off project.
The true purpose of agility and the operation of agile working is about being ready and prepared for rapid reaction to change. The evidence is clear the mature agile organisations were ready for change and were able to cope with most of the issues the pandemic threw at them. They will take feedback and learn further lessons, re-assess and iterate their next agile operating plan.
So the lesson is don't just hope we get through this and then "return to normal". Consider and re-assess your approach to agile and readiness for change. Probably normal will not be there for long….