Digital Derivatives Forum
June 10, 2020 @ 9:30 am

-

12:45 pm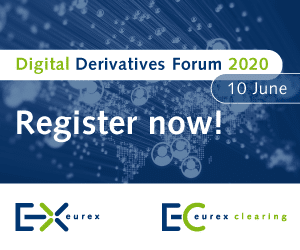 Date: Wednesday, 10 June 2020
Time: 9:30 am – 12:45 pm
Location: Webinar
With its focus on derivatives, trading and risk management across asset classes, the Derivatives Forums have rapidly become industry-leading events across several European locations. The full days of thought leadership insights, industry debates and networking opportunities have been widely appreciated by the attendees. Naturally, we can't host the forum in Amsterdam as originally planned. However, we've transformed the Amsterdam forum into a half-day virtual forum, quenching your thirst for knowledge.
With 2020, a new decade is upon us and with COVID-19, this decade may look completely different from what we ever had imagined. Therefore, even though it's tempting to look back, let's look forward.
-JuneThe first Digital Derivatives Forum will focus on the impact, challenges and opportunities the new decade will bring to financial market participants as change is shaping our industry at an unprecedented pace.