Post-Trade
Merrill Lynch & Co., Inc. announced today that it has launched Merrill Middle Office Solution, an outsourced,…
TriOptima, the post trade service provider for OTC derivatives, today announced that it had completed the first…
Global technology spending on OTC derivatives processing will increase from $187.8 million to $232.5 million by 2011….
The Depository Trust & Clearing Corporation (DTCC) recently enhanced the payment matching and bi-lateral netting capabilities of…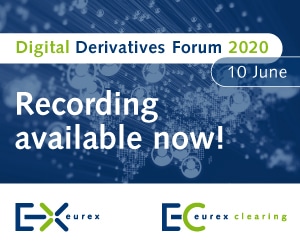 Podcast
Career Coaching – The Value to Professionals and their Companies (Oldie but Goodie!)
Last summer we posted the following podcast which we are re-broadcasting for our audience. Whether it is...
Upcoming Events
There are no upcoming events at this time.
Latest Videos on YouTube
Collateral Management: What Are The Priorities for 2019?


The Future Of Financial Markets: Addressing Unknowns & New Opportunities