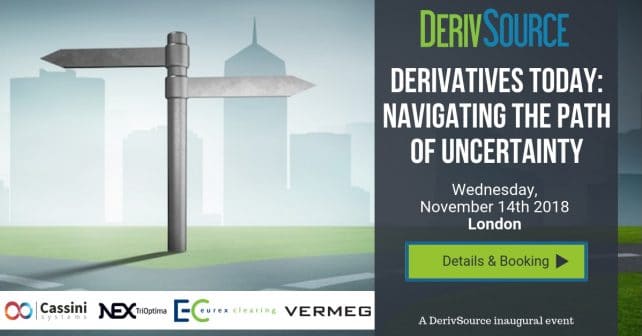 Date: Wed, Nov 14 at 9:00 AM–5:00 PM

Venue: 200 Aldersgate, St. Pauls, London EC1A 4HD, United Kingdom
Join us to discuss the 'new normal' for the derivatives industry in the inaugural DerivSource community forum Nov 14th 2018
The OTC derivatives space has undergone radical transformation in the last decade with sweeping regulatory reforms aiming to make the sector safer and more transparent. However, the industry still lacks clarity as to how the new market infrastructure should operate following the 2008 financial crisis. Today, financial institutions and the derivatives industry in general face a raft of new challenges as a result of changing market conditions and an uncertain regulatory climate.
In DerivSource's first community forum on Nov 14th, we explore the current market factors impacting industry infrastructure and derivatives operations on both the buy and the sell side, as well as the challenges that come with political and market uncertainty and the possible unintended consequences of regulatory reform.
Join us to reflect on the predicted market changes (such as futurisation, collateral shortfall) that have not evolved as expected—and to discuss the new trends that will shape the derivatives industry in the coming years. This is a not-to-be-missed event, offering a look into the future by focusing on the "new normal" for the derivatives industry.
Led by DerivSource founder and editor, Julia Schieffer, this interactive forum will include panel discussions, presentations and breakout sessions starting from 9am until 5pm with a cocktail reception to follow. See details below.
TOPICS
Led by DerivSource founder and editor, Julia Schieffer, this interactive forum will cover the following topics:
Political, Market and Regulatory Change – Navigating Brexit, US deference, and a move away from IBOR/LIBOR
CCP Clearing Evolution – What is the Status Quo & New Expectations Among Market Participants
Collateral Management – Will the Collaborative Ecosystem & Utilities Work?
Derivatives Fintech/Regtech – Will Technological Innovation Leapfrog Over New Challenges?
Preparing for Initial Margin – How to Calculate SIMM Sensitivities and Automate the Process
Brexit: An Economic View of the Impact on the City
SPEAKERS FROM
Aviva Investors, BMO Global Asset Management, BNY Mellon, Eurex Clearing, FCA, Ernst & Young, HSBC, LCH, PLSA, Vermeg, NEX TriOptima, Illuminate Finance, RT Associates, UBS, Seismic Foundry and more to be announced shortly! Agenda will be sent to registered attendees upon registration. Buy-side market participants can attend at no cost. Please contact us via email at info@derivsource.com for the discount code.
WHO SHOULD ATTEND?
Financial professionals active in derivatives, risk management, regulatory compliance, collateral management, post-trade processing and operations and fintech.