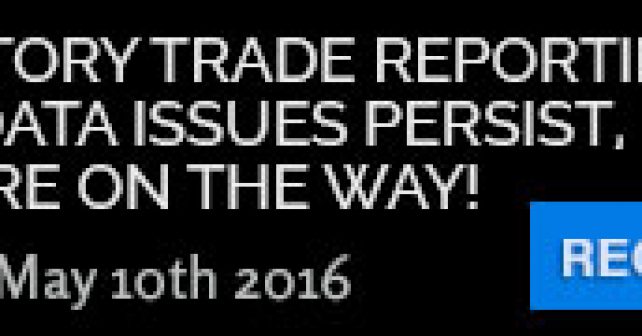 A complimentary webinar May 10th (10am NY/3pm London/4pm Paris)
In a webinar, market practitioners explore both the operational and industry-wide challenges they face in managing data and varying formats needed to meet trade reporting required under multiple financial regulations. (Register)

Data is the linchpin of trade and transaction reporting requirements, however; variations among different regulatory rules (MiFID II, EMIR Dodd-Frank), coupled with a lack of standardization among data formats and messaging is increasing operational burden and cost for the already complex reporting environment.

In a webinar, market practitioners explore the challenges they face in managing the data needed for reporting. The panel will discuss the various strategic approaches available to build a flexible reporting environment capable of both responding quickly to market changes from regulators or trade repositories, and supporting the use various data formats and messaging types required. Additionally, the panel will explore how the industry at large can address the real need for standardization and harmonization of data formats and messaging.

Professionals active in data management, reporting, post-trade operations and regulatory complianceare encourage to attend to gain a better understanding of the changes required both internally and at an industry level to support efficient data exchange and meet current and future trade and transaction reporting requirements.

The panel will review the following:
· How to put a data governance plan in place?

· What does a systematic approach to how data is processed and reported look like?

· What are the different approaches firms can take to improve data management for trade reporting?

· What are the pros and cons of using use of off the shelf tools or outsourcing?

· What are data translation services and how can they help?

· How can firms prepare for market changes (eg. changes in submission requirements from trade repositories)?

· Where are data standards needed and why?

· How is the industry working together to improve data harmonization?
Speakers:
Ian Rennie, Regulatory Reporting Change, HSBC Bank
Virginie O'Shea, Research Director, Aite Group
Paul Gibson, Business Consultant, Sapient Global Markets
Jim Bennett, Managing Director, Sapient Global Markets
Moderator: Julia Schieffer, Founder and Editor of DerivSource.com
Register here: https://goto.webcasts.com/starthere.jsp?ei=1097802