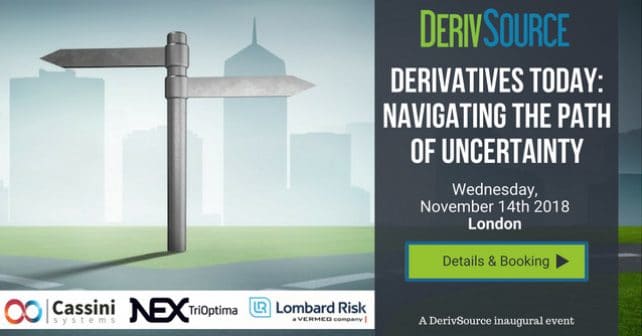 Date: Wed, Nov 14 at 9:00 AM–5:00 PM

Venue: 200 Aldersgate, St. Pauls, London EC1A 4HD, United Kingdom
Join us to discuss the 'new normal' for the derivatives industry in the inaugural DerivSource community forum Nov 14th 2018
In DerivSource's first community forum, we explore the new market factors impacting market infrastructure and derivatives operations that both buy and sell-side firms are navigating, as well as the challenges that come with the political and market uncertainty and possible unintended consequences of regulatory reform.Join us to reflect on the predicted market changes (futurisation, collateral shortfall) that have not evolved as expected and to discuss the new trends that will shape the derivatives industry in the coming years.
Register for Early Bird Discount!
SPONSORS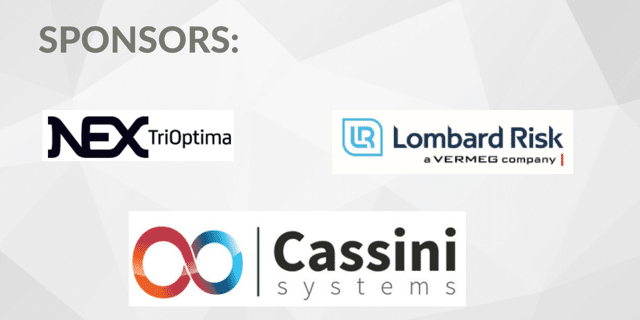 TOPICS
Led by DerivSource founder and editor, Julia Schieffer, this interactive forum will cover the following topics:
How will Brexit and a possible repeal of Dodd-Frank impact the EU, UK and US derivatives markets?
How are new technologies (blockchain, AI and robotics) likely to impact the derivatives industry specifically?
Where are we with CCP clearing? How will the buy-side get in board?
Will new technologies allow the market to leap frog over existing operational challenges?
Are utilities the way forward for collateral management? What does the new ecosystem look like and what functions are best kept in-house, if any?
Is the current regulation still effective in mitigating credit, market and systemic risks?
Why haven't previously predicted trends, collateral shortfall, futurisation, rush to CCP clearing, not evolved as predicted?
Where are we with the futurisation trend? Do futurised swaps truly address market needs?
Why are firms still trading bilaterally in significant volumes despite increasing costs and margin regulation?
SPEAKERS FROM
Aviva Investors, BMO Asset Management, Ernst & Young, PLSA, Lombard Risk, NEX TriOptima, Standard Chartered Bank, Seismic Foundry and more to be announced shortly! Agenda will be sent to registered attendees upon registration. Buy-side market participants can attend at no cost. Please contact us via email at info@derivsource.com for the discount code.
WHO SHOULD ATTEND?
Financial professionals active in derivatives, risk management, regulatory compliance, collateral management, post-trade processing and operations and fintech.